UV Based Disinfection Devices
AUTOMATED LUGGAGE DISINFECTOR USING UV-BATH
A kiosk using UV bath is developed, which can disinfect the baggage or other objects being carried inside. This system can be used for sanitization of luggage entering the campus of industrial establishments / defence units etc. The same system is planned to be used for disinfection of items being carried onto naval ships and submarines.
The system consists of a roller based conveyor carriage moving inside a chamber which is configured with UV bath of calibrated dosage. 
The type of UV used for the purpose is Far-UVC, which according to literature is effective against Corona virus. 
The items to be disinfected are carried on the conveyor to the chamber such that there is scanning and sanitization of the item all around the object surface. 
For maintaining the required exposure of the item to the UV rays on all areas as per required intensity and time for the sanitization process, the movement of the conveyor is automated, along with necessary electrical and mechanical safety interlocks 
Although Far-UVC is claimed to be harmless to human beings, sufficient precautionary measures are introduced to prevent leakage of UV beyond the chamber.
DEFENCE RESEARCH ULTRAVIOLET SANITIZER (DRUVS)
A UV-C Sanitizer cabinet called DRUVS (Defence Research Ultraviolet Sanitizer) is developed for sanitizing objects without using chemicals.
It has Fail safe design in which UV cannot be switched on if cabinet drawer is in open condition.
Touch free automatic operation
Total Irradiation: 9000 µWatt/cm2 (Calculated value)
Gives 360 Degree Exposure
It is Ozone Free
NOTESCLEAN
An Automated UVC Currency Sanitizing Device called NOTESCLEAN is developed. 
In this sanitizing technique one has to just place the loose currency notes at the input slot of the device. It picks the notes one by one and makes them pass through a series of UVC lamps for complete disinfection.
PAPER DISINFECTOR
To meet the imminent need to disinfect daily paper-based items entering an establishment, a product called Paper Disinfector is developed .
Paper / envelopes up to A4 size can be disinfected using the device
The device consists of two foldable halves - an upper lid and a lower lid 
To disinfect various paper-based items entering the establishment at the security office or the central registry, like entry passes, DAK, tender documents, currency notes etc., the operating person lifts the upper lid and asks the incoming visitor to place the item on the lower lid. He then closes the upper lid. The paper-based item is heated in between the two lids. 
Heating is done by means of Nichrome wire of selected resistivity which is placed inside a glass wool / mica sleeve, and sandwiched on a conductive cloth, and further wrapped in velvet for retention of heat. Two such sets of heating pads are used, one fixed on the bottom of the upper lid and the other on the top surface of the lower lid. 
The system draws electrical power of approximately 120 Watts, and has controls including ON/OFF switch & Indicators, fuse and timer control. There are different operation modes for the type of item like paper, currency, envelope etc. depending on the settings for temperature and exposure time. 
PORTABLE UVC KILLER
Portable Ultra Violet C-band (UVC) Virus Killer system is developed by LASTEC, Delhi to disinfect various objects by inactivating bacteria and viruses 99.9999%.
The device uses UVC Lamp of 254nm wavelength as excitation Source. Irradiance of 0.5mW/cm² is created over the object for 2 Minutes delivering a UVC dose of maximum 60 mJ/ cm² (required 40 mJ/ cm² to achieve 99.9999% inactivation).
The system is very compact having Dimensions 48 cm x 38 cm x 23 cm and Weight of 6 Kg only. It can sanitize Office Files, Letters/Envelops, Laptop etc.
As a safety feature UV light turns OFF once top cover is open. The user can do monitoring through acrylic window provided on side.
UV BASED DISINFECTION DEVICES
UltraViolet-C (UV-C) light consists of a shorter but energetic wavelength of light. It is particularly good at destroying genetic material in COVID-19. The radiation warps the structure RNA which prevents the viral particles from making more copies of themselves.  UV-C kills microbes quickly. Sanitization of the items by employing UV-C light avoids the harmful effects of the chemicals used for the disinfection. 
Objects like N-95 Masks, Mobile phones, iPad, Laptop, Currency Notes, Check leafs, challans, Passbooks, Paper, envelopes and many more items can be sanitized using UVC box.
Thermal heating in another way to disinfect papers, which is an essentiality for office works
These are environment friendly and contact free effective sanitization methods.
UV BLASTER – AREA UV DISINFECTION SYSTEM
A UV Disinfection Tower called as "UV Blaster" is developed.
The equipment may be used for rapid and chemical free disinfection of office spaces and buildings. As stated earlier, UV treatment is proven to reduce air and surface contamination up to 99.99%.
Based on the studies of the UV dose on COVID-19 is not available. However, from the studies of effect of UV-C radiation on other Corona family of viruses like SARS & MERS, the UV-C dose for 99.9% disinfection of COVID-19 is deducted as 30 mJ/cm2. 
It is remotely operated through laptop/mobile phone using wi-fi link
UV-C Power: 
6 lamps each with 43 Watts of UV-C power at 254 nm wavelength arranged for 360 deg. Illumination.
UV intensity at 2 m distance = 0.4 mW/cm2.
Disinfection Time: 
~10 minutes for a room of ~ 12 ft x 12 ft dimension. 
~30 minutes for 400 ft2 (by positioning equipment at different locations within the room).
Safety Feature: 
Automatic switch off on accidental opening of room/human intervention.
Key to arm operation.
It costs around Rs. 1.5 Lakh per unit for an order quantity of two units, The cost may come down to less than Rs. 80,000/- for reasonable numbers. 
UV-C BASED VIRUS FALCON FOR HVAC
DRDO has designed & developed a 'Virus Falcon' to deactivate Virus and Bacteria in the Heating Ventilation & Air conditioning (HVAC) system. It uses Ultra Violet C-band (UVC) light and Super Oxide Ions to reduce Biological Counts in HVAC system of a Centralized Air conditioning building. 
The system has been designed to deactivate virus and Bacteria at Filter unit, cooling coil unit and Plenum unit of the HVAC system as shown in picture. 
UVC light and Super Oxide Ions are generated using a UVC Lamp Excitation Source (254nm) providing Intensity of 13.4 mJ/cm². The system Air Handling Unit (AHU) can handle Flow Rate of 14000-17000 cubic feet per minute which is suitable to sanitize air in flowing ducts of Centralized Air Conditioned Building.
The system has been tested by taking air samples before and after switching ON the AHU by using Andersen sampler. Biological Counts (Bacterial and fungal Count) in AHU were measured using Petri Plate Exposure Method at NABL accredited lab and total Bacterial and Fungal counts reduction achieved were 94% and 91%. 
The system has been jointly developed with Industry and know–how is transferred for mass production to identified partner (s).
UVC BASED SANITIZATION ENCLOSURE
An enclosure having rotating platform is developed by LASTEC, Delhi, to provide uniform UV exposure and sanitization of packets, bags, briefcases, purses, medical accessories, etc.
The system uses UVC radiation (254nm) and delivers total output power of 180 Watt through 6 tubes so fitted to give full coverage on the item. UVC Reflective walls further enhance the irradiance. Virus can be inactivated within less than 3 minute (99.99%). Timer Knob is provided for variable sanitization time (pre-setting).
The system has auto switch-off feature of UVC lamp while door is open. Further front acrylic window has been provided for see-through vision.
The enclosure has dimensions of 1650(H)X676(D)X763(W) mm and provides total sanitization area of 0.809 m2.
The product has been made commercially available through Industry.
UVC LED BASED HANDHELD RECHARGEABLE SANITIZATION DEVICE
UV 'C' light with 270 nm wavelength is useful for sanitization of any exposed surfaces and items of daily use. Previously device were developed which consists of a UV tube operated on the main supply. So availability of power was essential requirement for such devices.
A hand held UV 'C' LED based, rechargeable sanitization device has been developed which can be used anywhere and can be carried even in the briefcase.
The systems consist of UV'C' LED fitted in a Metal Shielded body. A small lithium ion battery along with the charge controller unit has been fitted inside the body .A small charger has been provided to charge the battery.
Two types of systems have been fabricated. One version with 8 UV LED has peak wavelength of 275nm and 15mW radiant flux. The second one, consisting of 6 UV LED having 19 mW radiant flux, is comparatively smaller so has been called mini system.
UV SANITIZATION BOX AND HAND-HELD UV DEVICE
DRDO has designed & developed Ultraviolet C Light based sanitization box and hand held UV-C (ultraviolet light with wavelength 254 nanometres) device.
The UV-C box is designed for disinfecting personal belongings like mobile phone, tablets, purse, currency, cover of office files, etc. COVID-19 virus gets deactivated by using UVC lamps in one minute. The box is designed to deliver 100mJ/cm2 UV-C dose equidistantly.
The UV lamps used in the sanitization box also emits 185 nm which produces ozone and is able to take care of the unexposed area on the surfaces of the objects placed in the box
The hand held device having eight watt UV-C lamp disinfects office and house hold objects like chairs, files, items delivered by post and food packets with an exposure of 45 second at a 100 mJ/cm2 irradiance placed at a distance of less than two inches. This measure can reduce the transmission of Coronavirus in office and public environment which is required to be operational in all conditions.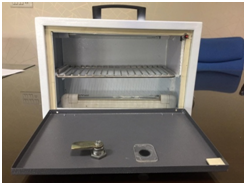 UV SANITIZATION BOX – VERTICAL (FOR MASKS)
UV-C Sanitization Vertical Box is developed for specific purpose of sanitizing the masks.
The system is automatic and as the door is opened UV-C light is switched off.
This will enable disinfection of masks and enable the re-use
Contacts
<थ>उत्पाद
Sr. No.
Product
Laboratory
DRDO Contact
Industry
Detailed Address
Industry Contact Person
1
Automated Luggage Disinfector Using UV-Bath
NPOL, Kochi
tso@npol.drdo.in
director@npol.drdo.in
04842571111
M/sApollo Microsystems Ltd Hyderabad
PlotNo. 128, Road No. 12, IDAMallapur, Hyderabad - 500076
Mr Adepalli Krishna Sai Kumar 12, IDA Mallapur Hyderabad - 500076
2
Defence Research UV Sanitiser - DRUVS (UVC Sanitizer Cabinet)
RCI, Hyderabad
director@rcilab.in
04024306000
M/s Vijay Machine Tools, Telangana
D No 5-9-287/51 Plot No 51 Rajeev Gandhi Nagar Prashanti Nagar Industrial Area, Bala Nagar Hyderabad - 500037
Shri P Jyotdi Baba
8008434343
vmt@rediffmail.com
vmt_12345@yahoo.co.in
3
Notesclean
RCI, Hyderabad
director@rcilab.in
04024306000
M/s Vijay Machine Tools, Telangana
D No 5-9-287/51 Plot No 51 Rajeev Gandhi Nagar Prashanti Nagar Industrial Area, Bala Nagar Hyderabad- 500037
Shri P Jyotdi Baba
8008434343
vmt@rediffmail.com
vmt_12345@yahoo.co.in
4
Ultra Swachh - PPE Disinfection unit
INMAS, Delhi
director@inmas.drdo.in
01123905105
M/s Gel Craftdealtdcare Pvt Ltd
A2/48, GD Steel Compound Site-4,Industrial Area, Sahibabad, Ghaziabad, UP- 201010
Mr Ajay Gupta Mo.
9810717192
5
UVC Based Sanization Enclosure
LASTEC, Delhi
director@lastec.drdo.in
01123817625
M/s Ananth Technologies Ltd
39 Ananth Info Park, Phase II High Tech City, Madhapur Hyderabad - 500081
040-66146789
040-66156615
6
UV-C Based Virus Falcon for HVAC
LASTEC, Delhi
director@lastec.drdo.in
01123817625
M/s Elite Air Techniques Pvt. Ltd.
Plot No. 2, Sector 16, HSIIDC Bahadurgarh, Haryana-124507
Sh Harpreet
9810084281
info@eflow.in"
7
UVC Killer Portable
LASTEC, Delhi
director@lastec.drdo.in
01123817625
M/s Test Right Nanosystems
204 SRBC Building, Sector 9 Vasundhara, Ghaziabad 201012 UP
9442151969
9716608806
8
UVC LED based Handheld Rechargeable Sanitization Device
DIPAS, Delhi
director@dipas.drdo.in
01123831053
M/s Macro Scientific Works, Pvt Ltd
B-35/3, G.T. Karnal Road Industrial Area, Delhi-110033
Mr Rajeev Manchanda
9810110476
9
UVC LED based Handheld Rechargeable Sanitization Device
DIPAS, Delhi
director@dipas.drdo.in
01123831053
M/s Miltex Equipments
Plot No 146, Patparganj Industrial Area New Delhi -92
Mr Jagdeep Poddar
9811100294
10
UV Blaster - UV Based Area Sanitization
LASTEC, Dehi
director@lastec.drdo.in
01123817625
M/s New Age Instruments & Materials
12-15, 2ndFloor Apna Enclave, Shopping Complex Railway Road Gurugram
Tapan Sharda Sameer Sharda
0124-4086513/14/16
7011801108
11
UV Sanitization Box
DIPAS, Delhi
director@dipas.drdo.in
01123831053
M/s Anantd Technologies Ltd
Plot No 39,Anantd Info Park HiTech City,Phase - II Madhapur Hyderabad - 500081
Mr Y Chaterjiychaterji@anantdtech.com
9000661730
12
UV Sanitization Box
DIPAS, Delhi
director@dipas.drdo.in
01123831053
M/sFusiontek Pvt Ltd
Dwarka, New Delhi
Ram Upadhyaya
9892025783
13
UV Sanitization Box
DIPAS, Delhi
director@dipas.drdo.in
01123831053
M/sIndident Medical Devices
3E/15 Jhandewalan Extn New Delhi - 110035
Dr Bobin Saluja
drbobin@gmail.com
9810294477
011-41543747
14
UV Sanitization Box
DIPAS, Delhi
director@dipas.drdo.in
01123831053
M/s E ConnectSystems
K-197, MIDC Industrial Area Waluj, Aurangabad, Maharashtra
Mrs Prajakta Kulkarni
9657716142
15
UV Sanitization Box
DIPAS, Delhi
director@dipas.drdo.in
01123831053
M/sHarida Enterprises Pvt Ltd
Chennai
Mr R Subramanian
9940020316
info@haridraenterprises.com
16
UV Sanitization Box
DIPAS, Delhi
director@dipas.drdo.in
01123831053
M/sMaxwell Medical Engineering
Manjusar,Lambdpura Road Savli, Vadodara
Mr Vittahal Tripatdi
9838915701
17
UV Sanitization Box
DIPAS, Delhi
director@dipas.drdo.in
01123831053
M/s MatrixIntegrated Products Pvt ltd
D2,Gali No 105, Sagar Complex Nashik Highway, Ovali, Bbiwandi Mumbai - 421302
Mr Tejas
7045947045
18
UV Sanitization Box
DIPAS, Delhi
director@dipas.drdo.in
01123831053
M/sSynopsis India
B-501,Waterridge, Undri Pune
Mr Tarun Chawla
9975899106
19
UV Sanitization Box
DIPAS, Delhi
director@dipas.drdo.in
01123831053
M/s Pyrotech Electronics Pvt Ltd
F16A,Road No 3 MIA Madri, UdaipurRajastdan
Ruchir Bapna
08209192488
20
UV Sanitization Box
DIPAS, Delhi
director@dipas.drdo.in
01123831053
M/s Tdeta Controls
1,Electronic Estate Satara Road Pune 411009
Raja Mahbubani
09923107771 <
raja@tdetacontrols.com
21
UV Sanitization Box
DIPAS, Delhi
director@dipas.drdo.in
01123831053
M/s Macro Scientific Works Pvt ltd
B-35/3, GT Karnal Toad Industrial Area Delhi -110033
Rajiv Manchanda Director
9810110476
011-48494849
22
UV Sanitization Box
INMAS, Delhi
director@inmas.drdo.in
01123905105
M/s Lab India Instruments Pvt Ltd
202, NandChambers, LBS Marg Tdane(Near Vandan Cinema) Mumbai Maharashtra - 400602
Mr Lalit Bhambhani
022-25986000
9867571114
23
UV Sanitization Box
DIPAS, Delhi
director@dipas.drdo.in
01123831053
M/s Unitech Technocrates
Village Meerpur Gurudwara, Post Office Trilokpur Tehsil Nahan, District Sirmour Himachal Pradesh
Ashutosh Garg
9355575276
8198982206
24
UV Sanitization Box
DIPAS, Delhi
director@dipas.drdo.in
01123831053
Dr Rajeev Varshney Sc G
9968317557
709, Platinum Square, Next to Hyyat Regency, Viman Nagar, Pune 411014
Sh Mr Parag Sen
Mobile : 9822408714
p.sen@cluster-one.net
25
UV Sanitization Box
DIPAS, Delhi
director@dipas.drdo.in
01123831053
M/s SS Electronnics
D-23 Sector-80, Noida Phase-II Noida, Gautam Buddh Nagar, Uttar Pradesh -201301
Mr Upesh Kumar Gupta
9560889978
upesh.gupta@sselectronic.co.in
26
UV Sanitization Box -Vertical (For Masks)
INMAS, Delhi
director@inmas.drdo.in
01123905105
M/s Precious Life Care
21/31,West Patel Nagar Delhi
Mr Mohit Agarwal
9826951655
9911170071
27
UV Sanitization Handheld Device
DIPAS, Delhi
director@dipas.drdo.in
01123831053
M/s Fusiontek Pvt Ltd
Dwarka, New Delhi
Ram Upadhyaya
9892025783
28
UV Sanitization Handheld Device
DIPAS, Delhi
director@dipas.drdo.in
01123831053
M/s Anantd Technologies Ltd
Plot No 39,Anantd Info Park HiTech City,Phase - II MadhapurHyderabad - 500081
Mr Y Chaterji
ychaterji@anantdtech.com
9000661730
29
UV Sanitization Handheld Device
DIPAS, Delhi
director@dipas.drdo.in
01123831053
M/s Indident Medical Devices
3E/15Jhandewalan Extn New Delhi - 110035
Dr Bobin Saluja
drbobin@gmail.com
9810294477
011-41543747
30
UV Sanitization Handheld Device
DIPAS, Delhi
director@dipas.drdo.in
01123831053
M/s E Connect Systems
K-197, MIDC Industrial Area Waluj, Aurangabad, Maharashtra
Mrs Prajakta Kulkarni
9657716142
31
UV Sanitization Handheld Device
DIPAS, Delhi
director@dipas.drdo.in
01123831053
M/s Harida Enterprises Pvt Ltd
Chennai
Mr R Subramanian
9940020316
info@haridraenterprises.com
32
UV Sanitization Handheld Device
DIPAS, Delhi
director@dipas.drdo.in
01123831053
M/s Maxwell Medical Engineering
Manjusar, Lambdpura Road Savli, Vadodara
Mr Vittahal Tripatdi
9838915701
33
UV Sanitization Handheld Device
DIPAS, Delhi
director@dipas.drdo.in
01123831053
M/s Matrix Integrated Products Pvt ltd
D2,Gali No 105, Sagar Complex Nashik Highway, Ovali, Bbiwandi Mumbai - 421302
Mr Tejas
7045947045
34
UV Sanitization Handheld Device
DIPAS, Delhi
director@dipas.drdo.in
01123831053
M/s Synopsis India
B-501,Waterridge, Undri Pune
Mr Tarun Chawla 9975899106
35
UV Sanitization Handheld Device
DIPAS, Delhi
director@dipas.drdo.in
01123831053
M/s Pyrotech Electronics Pvt Ltd
F16A, Road No 3MIA Madri, Udaipur Rajastdan
Ruchir Bapna
08209192488
36
UV Sanitization Handheld Device
DIPAS, Delhi
director@dipas.drdo.in
01123831053
M/s Unitech Technocrates
Village Meerpur Gurudwara, Post Office Trilokpur Tehsil Nahan, District Sirmour Himachal Pradesh
Ashutosh Garg
9355575276
8198982206
37
UV Sanitization Handheld Device
DIPAS, Delhi
director@dipas.drdo.in
01123831053
M/s TdetaControls
1,Electronic Estate Satara Road Pune 411009
Raja Mahbubani
09923107771
raja@tdetacontrols.com