Sample Collection Enclosures
COVID-19 SAMPLE COLLECTION KIOSK (COVSACK)
COVID Sample Collection Kiosk (COVSACK) has been developed in consultation with the doctors of Employees' State Insurance Corporation (ESIC), Hyderabad.
COVSACK is a kiosk for use by healthcare workers for taking COVID19 samples from suspected infected patients. Patient under test walks into the Kiosk and a nasal or oral swab is taken by health care professional from outside through the built in gloves.
The Kiosk is automatically disinfected without the need for human involvement, making the process free of infection spread. The shielding screen of kiosk cabin protects the health care worker from the aerosols/droplet transmission while taking the sample. This can reduce the requirements of PPE change by health care workers.
After the patient leaves the Kiosk, four nozzle sprayers mounted in the kiosk cabin disinfect the empty chamber by spraying disinfectant mist for a period of 70 seconds. It is further flushed with water &UV light disinfection. The system is ready for next use in less than two minutes.
Voice command can be given through two-way communication system integrated with the COVSACK. It is possible to configure COVSACK to be used either from inside or outside as required by the medical professionals.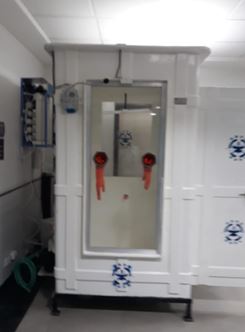 WALK-IN SWAB COLLECTION KIOSK (WISK)
The WISK caters to physical and psychological security for personnel involved in swab collection and also saves the amount of PPE consumption.
After detailed discussions with GMC, Ernakulam, WISK was developed as a cost effective solution for affordability by small PHCs / rural clinics.
The Econo-WISK is designed as an assembly of a plastic sheet (durable rexine and transparent UPVC sheet) over an easy-to-assemble frame made of 1" square tube of mild steel. There is a wooden base with linoleum sheet, as well as detachable tables both within and outside the kiosk. The cost-effective and low cost materials configured as "knock-down kit" are easy to transport as multiple units, requiring lower transit space envelopes.
The product is easy to assemble at site, has better internal air circulation scheme and can be installed outdoors also.
The amenities provided include exhaust fan, air inlet with N95 mask filters, lighting, 5A power plug, sanitizer for glove decontamination, glove box outside the kiosk (for disposable gloves) and a collection tray for 'swab vials'.
High end and mobile WISKs are being worked out
VERSATILE BODY SANITIZATION KIOSK (VERBSAK)
HEMRL, Pune has made a Kiosk for COVID-19 Sample collection.
It is made up of Fibre-reinforced plastic FRP having chamber 0.9m x 0.9m x 2m with a single door. Provision for collection of Covid samples has been provided for outside as well as from inside.  One of the wall has been made of transparent glass/ polycarbonate on which a pair of long cuff gloves can be assembled. 
The design enables assembly of the chamber in few hours and is easy to shift from one place to another. 
It is equipped with a fog generator of capacity of about 5-6 L/ hr. Audio and video system for communication between patient and medical staff collecting sample is also provided. 
In the diagnostic centres and Hospitals, the suspected patient can be made to enter the kiosk and sit comfortably thereby isolating him from the medical staff. The kiosk enables health workers / doctors to collect the samples of suspicious patients using the long cuffs, from outside without the need of PPE kits. 
With small modifications it can be used for individual disinfection in different premises like restaurants, food and medical industry, etc.
•The fog generator used in VerBSaK is an ultrasonic transducer-based humidifier that generates fog of 1 to 5 μm aerosols. The fog generator operates for 30-50s for sanitization during which the chamber gets completely sanitized. After preset time, the fog generation automatically stops with a buzzing sound.  
An appropriate solution as recommended by doctors can be used for fogging. The solution used in the chamber is PerSan which is 0.25% Hydrogen Peroxide with additives.
Contacts
Sr. No.
Product
Laboratory
DRDO Contact
Industry
Detailed Address
Industry Contact Person
1
Econo-Walk-in Swab collection Kiosk(WISK)/High End WISK
NPOL, Kochi
tso@npol.drdo.in
director@npol.drdo.in
04842571111
M/s AJ Designs & Constructions, Kochi
1st Floor, Kolaveli Shopping Complex Kakkanad Kochi - 682030
Mr Jolly KX
9995522618/9072869169
kanath.constructions@gmail.com
2
Kiosk for COVID-19 Sample Collection (COVSACK)
DRDL, Hyderabad
director@drdl.drdo.in
04024583000
M/s Vega Aviation Products Pvt Ltd
543,VithaldevLane, Shahapur, Belgaum - 590 003,Karnataka
Mr Suhas P Chandak, Director,
9845272888,
suhas@vegaauto.com
3
VerBSak
HEMRL, Pune
director@hemrl.drdo.in
02025912101
M/s Span Industries, Pune
Plot no 2421A, Gat no 255 A, Talawade, Pune412114
Mr Jitendra Dalvi
9890055550
dalvi.jitendra@gmail.com