Robots for medical use
Sewak - DRDO Robot For Keeping Hospital Staff Safe
A team of scientists at CAIR, DRDO has quickly customized one of its robotic solutions to come up with a cost effective robot within a week. The robot is named as Sewak.
Sewak can be a safe alternative for the hospital staff like medical professionals and health workers taking care of the COVID-19 patients in the quarantine centres and hospitals.
Sewak can be teleoperated by the hospital staff from a remote location to navigate the robot in the quarantine zone and distribute food, water, medicine etc. to the affected persons.
Operational distance is about 30-50m (can be extended). The robot gets power from maintenance free rechargeable batteries and can work continuously for 5 hours on full charge. It has a capacity of 30 Kgs.
Video camera fitted in the front helps navigating to the patient's bed.
Audio facility provided in the robot facilitates two-way communication between the patient and the hospital staff. This will help the hospital staff communicate with the patient to understand his/her health condition and the recovery he/she is making, explain the dosage of the medicines and comfort the patient. 
All this is possible while the hospital staff is positioned in a safe zone while the robot moves inside the quarantined zone.  This eliminates the risks of exposure of the infection to the frontline workers while taking care of the needs of the patients.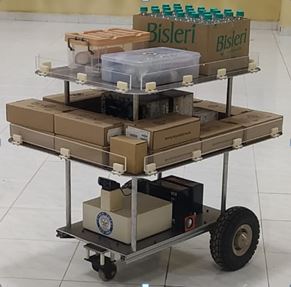 Contacts
Sr. No.
Product
Laboratory
DRDO Contact
Industry
Detailed Address
Industry Contact Person
1
Sewak- Robot for Medical Use
CAIR, Bengaluru
director@cair.drdo.in
08025242821
M/s Saurashakti
Eshwaripuri Colony, Sainikpuri Post, Secunderabad, Telangana - 500094
040-29568132
+91-9849801072
jayatheerth@saurashakthi.com
2
Sewak- Robot for Medical Use
CAIR, Bengaluru
director@cair.drdo.in
08025242821
M/s Pyrotech Electronics Private Limited
F-16A, Road No-3, M.I.A. Udaipur Rajasthan - 313003
Shri Ruchir Bapna
02942492123-25
9785644278 / 8209192488
info@pyrotechlighting.com
3
Sewak- Robot for Medical Use
CAIR, Bengaluru
director@cair.drdo.in
08025242821
M/s. Leo Surface Coatings Private Limited
Office No.301/317, Vinayak Arcade Mumbai-Pune Road Opp. Bajaj Auto Ltd., Akurdi Pune Maharashtra - 411035
0266321300-314
9422325528
kk@leosurfacecoatings.com
4
Sewak- Robot for Medical Use
CAIR, Bengaluru
director@cair.drdo.in
08025242821
M/s Apollo Microsystems Ltd Hyderabad
Plot No 128,Road No 12, IDA Mallapur Hyderabad- 500076 Telanagana
Addepalli Krishna Kumar Sai
9246247993
5
Sewak- Robot for Medical Use
CAIR, Bengaluru
director@cair.drdo.in
08025242821
M/s MTAB Engineers Pvt Ltd
G26A SIDCO Industrial Estate Kaakalur Tiruvallur, Tamilnadu - 602003
sales@mtabindia.com
9444395852
6
Sewak- Robot for Medical Use
CAIR, Bengaluru
director@cair.drdo.in
08025242821
M/s ComintSystems and Solutions Pvt Ltd,
EdenAmsri Square, Office no. 307 & 308, 3rd Floor, St. John's Road,Secunderabad - 500 026, Telangana, India
L. Rambabu, Managing Director
Tel: +91-40-2780 2235
Fax: +91-40-2780 2234
Mob: +91-98499 50840
Email: comint@comintindia.com
7
Sewak- Robot for Medical Use
CAIR,
Bengaluru
director@cair.drdo.in
08025242821
M/s Larsen & Toubro Limited
Defence, Swami Vivekananda Road, Rajana Colony, C V Raman Nagar, Bengaluru - 560093, Karnataka
Email:  defblrmkt@larsentoubro.com