PERSONAL PROTECTIVE EQUIPMENT (PPE)
ADVANCED FACE MASKS
DRDO has developed two flat and fold masks with valves for the protection of medical personnel (N-99 and N-97 equivalent) as per international standards. The tests are carried out at SITRA Coimbtore, DRDE, Gwalior and CLI, Mumbai.
The designs are being produced by many industry partners.
ADVANCED FACE MASKS WITH NANO-WEB (BIO-PROTECTIVE)
A five layered N-99 masks using a nano web filter layer is designed, developed and tested in bio threat mitigation project.
Filter media for the face masks are made up of silver impregnated nano fibre of nylon multilayers which offer a much higher surface area and very fine pores to trap viruses and bacteria.
Filter media was indigenously developed in collaboration with ATIRA, Ahmadabad and it offers ˃99.00 % efficiency against 0.3 µm particulates matter.
This material is able to prevent spread of viruses and other respiratory infections. These masks are developed in flat & fold shape with exhalation valve to facilitate longer wear/donning. These masks are very cost effective, light weight and comfortable to wear.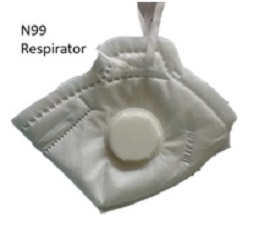 ADVANCED FACE MASKS WITH MELT BROWN FILTER (BIO-PROTECTIVE)
Filter media for the face masks are made of polypropylene melt blown multi layers which offer ˃97 % efficiency against 0.3 µm particulates matter. This is N-97 equivalent.
Other design parameters are similar to the N-99 Masks.
BIODEGRADABLE HERBAL MASK- PAVITRAPATI

DIAT, Pune has developed a 3 layered Ayurvedic based Biodegradable Face Mask 'Pavitrapati'.
The product is antibacterial, antifungal, antiviral, porous, super hydrophobic (outer layer), hydrophilic (inner layer) and biodegradable.
 Following tests have been carried out for the masks

| | | | |
| --- | --- | --- | --- |
| S.No | Test | Standard | Results |
| 1 | Air Permeability/Breathability | ASTM D-737 | 28 to 253 ft3/min |
| 2 | Manofibre mat porosity | ASTM | 0.1 to 150 micrometre |
| 3 | Biodegradability | ASTM | >60% weight loss in 28 days under soil based decompost |

The patented invention have herbal extract obtained from Azadirachtaindica (Neem oil), Curcuma longa (Turmeric), Ocimumtenuiflorum (Krishna Tulsi), Trachyspermumammi (Ajwain), Piper nigrum (Black Pepper), Acacia arabica (Gum arabic), Ayzygiumaromaticum (Clove), Santalum album (Sandalwood), Crocus sativus (Saffron) in the fibre that provides antibacterial and anti viral properties. These are the additives that are the immunity boosting agents for self-care as per the guidelines of Ministry of Ayush.
DRDO has completed Transfer of Technology (ToT) to M/s SiddheshwarTechtessile Pvt. Ltd., Kolhapur, Maharashtra. The company had already sold 10,000 pieces of mask in India and the product is also available in Amazon. The manufacturers have identified a marketing distributor is Europe to negotiate with Health Ministry for one million order of the three ply mask to be distributed in Europe.
The biodegradable nanofibre mat/membrane may also find applications as a protective membrane for PPE.
ENCLOSURE FOR INTUBATION PROCEDURE – AEROSOL CONTAINMENT BOX
This is developed to protect doctors and medical healthcare providers from the aerosol released during intubation of the patients.
It consists of a transparent acrylic/perspex cube which covers patient's head upto chest and act as a safety barrier against transmitting droplets from patients while giving treatment. 
The two circular ports allow the health worker's hands to pass and perform the airway procedures. The material used here is 50 percent lighter thermoplastic compared to glass making it easy to handle. 
This Box is useful while taking samples from a suspected patient during intubation, observation or during treatment to completely avoid droplets and aerosols emanating from them due to cough & sneeze. Two sizes of Aerosol Box are designed and developed by DRDO for use by adult patients and child patients. 
The use of Aerosol Box can safeguard against spread of viral contamination of COVID-19 to reach to gown, gloves, face mask, eye shield, shoes and also on the floor of the hospitals effectively safeguarding our health care workers. 
DRDO has manufactured prototype units at laboratory and is now being produced by local industry partners
FULL FACE SHIELD
A face protection mask for health care professionals handling COVID-19 patients is developed. Its light weight construction makes it convenient for comfortable wear for long duration. 
The holding frame is manufactured using Fused Deposition Modeling (3D printing). Polylactic Acid filament is used for 3D printing of the frame. This thermoplastic is derived from renewable resources such as corn starch or sugarcane and is biodegradable. 
The face mask is mass produced using injection molding technique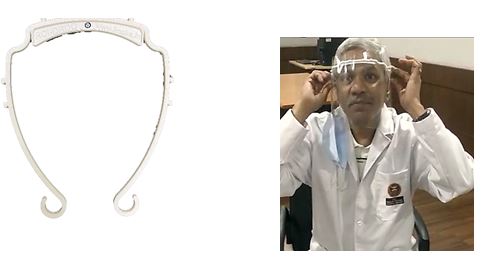 N-95 Reusable Masks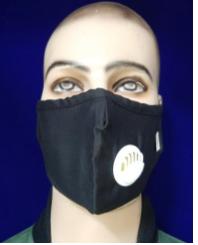 A reusable anti microbial N95 fabric mask has been designed & developed by DEBEL, Bengaluru. The mask is an offshoot of the previously developed NBC Respiratory Mask to protect the respiratory tract and face of the individual against Chemical & Biological Warfare Agents. 
The mask covers the nasal, mouth and chin portion of the face. It provides reliable respiratory protection of at least 95% filtration efficiency against airborne particles and liquid contaminating the face. The mask is impervious to particles of dimension 0.3 microns and above.
The outer layer of the mask is made of anti microbial fabric and the intermediate layer is the filter layer. The skin contacting layer is fine quality cotton and the active functional layer is secured in a cotton sleeve. The mask is provided with metal nose strip for grip and elastic tape for comfortable fitment.
The filter is replaceable after use and Mask can withstand 10–20 washes.
The mask is being bulk produced through industry.
PERSONAL PROTECTIVE EQUIPMENT (PPE)
PPE include equipment used by medical professionals for protecting themselves while treating patients. This include coverall suits, protection enclosures, face shields etc. This coverall suits are improvised DRDO products for protection of medical professionals and paramedics handling COVID-19 patients. Materials for suits are developed and have undergone all certifications and testing. Industries for production of all PPE coveralls have been identified and production is ramped up to meet the emerging demand.
PERSONAL PROTECTIVE EQUIPMENT (PPE) TYPE A
PPE Type A is made from the material used for parachute
The material is PU coated Nylon/Polyester
PERSONAL PROTECTIVE EQUIPMENT (PPE) TYPE B
PPE Type B is made up of Tri-Laminate highly breathable material
Breathable Polythylene Film laminated on both sides of poly propylene SS type Non-Woven fabric of total 52 GSM 
It is lightest weight PPE which has passed the highest level of Synthetic Blood Penetration test and is qualified for dry test for bacterial resistance 
PERSONAL PROTECTIVE EQUIPMENT (PPE) TYPE C
PPE Type C has limited breathability 
The material is TPU film laminated poly propylene non-woven fabric 90 GSM 
A total of 35 Lakhs units have been ordered on these new designs by DRDO.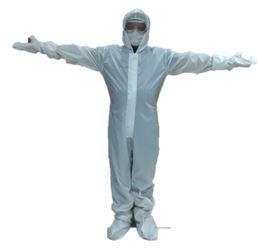 TWO PIECE COVERALL
An advanced personal protective gear is designed for healthcare personnel and security forces which has easy donning and doffing feature without compromising the functionality of PPE. 
The Two-Piece breathable coverall is designed in two body pieces (parts) but has one-piece functionality. It is to be worn with Head and Shoe covers for full protection. It consists of following components to work as a whole unit:

Head Cover to be worn with 3-ply Mask & Polycarbonate Face shield 
Upper Part (Jacket) to be worn with Nitrile Gloves 
Lower Part (Trouser) with good adjustable waist elastic 
Show Cover with fastening strips for good coverage

This PPE is non-woven, non laminated breathable coverall made by the 65-70 GSM fabric. 
Available in Medium and Large sizes. 
Contacts
Sr. No.
Product
Laboratory
DRDO Contact
Industry
Detailed Address
Industry Contact Person
1
Enclosure For Intubation Procedure/Aeroso l Containment Box
RCI, Hyderabad
director@rcilab.in
04024306000
M/sArrowEngineerin g Industries Pvt Ltd
5-5-35/287/1A, plotNo 64 Saibab Nagar Colony, Kukatpally Hyderabad - 500072
040-23070167/168 9246549570 9959650733
2
Enclosure For Intubation Procedure/Aeroso l Containment Box
TBRL, Chandigarh
director@tbrl.drdo.in
01722657659
M/s Urgent Engineering Works
Plot No 502, Industrial Area, Ph 2 Chandigarh, Punjab
Mr Gurnaib Singh
8847504046
3
Enclosure For Intubation Procedure/Aeroso l Containment Box
TBRL, Chandigarh
director@tbrl.drdo.in
01722657659
M/sPriority Solutions
D-103,Phase VII, Mohali, Punjab
Mr Sukhwinder Singh
9915553754
4
Full Face Shield - Visor Based
RCI, Hyderabad
director@rcilab.in
04024306000
M/s Sigma Microsystems Pvt Ltd
24/A, Hardware Park Near Airport, Srisailam Highway Hyderabad - 501510 Telangana
Shri C Damodar Reddy
9440803700
cdr@sigmamicrosystems.com
sigma@sigmamicrosystems.com
5
Full Face Shield - Visor Based
RCI, Hyderabad
director@rcilab.in
04024306000
M/s iMake, Hyderabad
iMake,3-9-42, CB Colony, LB Nagar, Hyderabad - 500068
Sudhir K
9849313146
6
Full Face Shield - Visor Based
TBRL, Chandigarh
director@tbrl.drdo.in
01722657659
M/s Modern Manufacturers
Plot No 478, Sector82, Mohali, Punjab
Dr Charanjit Singh
9988467178
7
Full Face Shield - Visor Based
TBRL, Chandigarh
director@tbrl.drdo.in
01722657659
M/s Kirat Mechanical Engineering
PlotNo 139, Industrial Area, Ram Darbar Phase-II Chandigarh
Mr Tejinder Singh
9814244856
8
Full Face Shield - Visor Based
PO-I, DRDO HQrs
technology_advisor@hqr.drdo.in
01123018239
M/s Wipro 3D Business Unit of Wipro Enterprises Pvt Ltd
9 B-10A, Phase- 1, PeenyaIndustrial Area, Bangalore- 560058
Mr Ajay Parikh, CEO Wipro 3D 8861138219 ajay.parikh@wipro.com
9
Full Face Shield - Visor Based
PO-I, DRDO HQrs
technology_advisor@hqr.drdo.in
01123018240
M/s Global Health Care
Global HealthCare 409,Second Floor Munirka,New Delhi-110067
Sanjay Pathak
9810310798
sanjaypathaks@gmail.com
10
Masks- Advanced (N99 Equivalent)
DRDE, Gwalior
director@drde.drdo.in
07512341550
M/s INTEC Safety, Kolkata
INTEC Safety,Madhurima House, 83 & 84, ChanditalaMain Road, Kolkata -700053
033-24032001
11
Masks -Advanced (N99 Equivalent)
DRDE, Gwalior
director@drde.drdo.in
07512341550
M/sNikhtish Engineering Pvt Ltd
S No 91/3,Plot 14-A, Shriyash Bunglow Shikshanagar, Lane 09, Paud Road Vanaz, Pune -411038 Maharashtra
Mr Nikhil Topkar
9922992100
12
Masks -Advanced (N99 Equivalent)
DRDE, Gwalior
director@drde.drdo.in
07512341550
M/s Venus Industries, Mumbai
VenusSafety & Health Pvt, Plot No. L- 75/76,MIDC- Taloja, TindreVillage, DistRaigad, MH - 410208
022-27410018/19/20
info@venussohs.com
13
Masks - Debel N95 Reusable
DEBEL, Banglore
dirdebel@debel.drdo.in
08025058325
M/s BS Apparels
No 25, SIDCO, Mudalipalayam Tiruppur, Tamil Nadu - 641606
Mr Vijaya Raghavan
9894633377
14
PPE Type A
INMAS, Delhi/ADRDE Agra/DRDE Gwalior
director@inmas.drdo.in
01123905105
director@adrde.drdo.in
05622260023director@drde.drdo.in 07512341550
M/sGokuldas Exports, Bangalore
#16/2, ResidencyRd, Shanthala Nagar, Ashok Nagar, Bengaluru, Karnataka 560025
080-41272200/46191500
infor@gokaldasexports.com
15
PPE Type A
INMAS, Delhi/ADRDE Agra/DRDE Gwalior
director@inmas.drdo.in
01123905105
director@adrde.drdo.in
05622260023director@drde.drdo.in 07512341550
M/s Kusumgarh Corporates Private Ltd
101, Manjushree, V.M.Road, J.V.P.D., Vile Parle (West), Mumbai – 400 056. Maharashtra, India.
Phone:+ 91 ( 22 ) 611 25139
Phone: + 91 ( 22 ) 611 25100
Fax: + 91 ( 22 ) 261 15651
info@kusumgar.com
16
PPE Type A
INMAS, Delhi/ADRDE Agra
director@inmas.drdo.in
01123905105
director@adrde.drdo.in
05622260023
M/s Radnik Exports Ltd
D-175,Sector-63Noida ,U.P. 201307
Gaurav Nagpal
9818071102
17
PPE Type A
INMAS, Delhi/ADRDE Agra
director@inmas.drdo.in
01123905105
director@adrde.drdo.in
05622260023
Ms/ Icon Designs
184/167, Wajidpur, Jajmau, Kanpur - 208010 INDIA.
Samarjit
9839012910
18
PPE Type A
INMAS, Delhi/ADRDE Agra
director@inmas.drdo.in
01123905105
director@adrde.drdo.in
05622260023
M/s Qualiance international pvt.ltd
D. No: 5/491-R, Lakshmi Nagar, Vengamedu, Angeripalayam Road, Chettipalayam Village, Tirupur 641603, Tamil Nadu, INDIA.
Telephone:+91 421 2485001
Fax:+91 421 2475002
19
PPE Type A
INMAS, Delhi/ADRDE Agra
director@inmas.drdo.in
01123905105
director@adrde.drdo.in
05622260023
M/s Aruna Clothing Company
No53/1b&56/1d Multi Nagar Main Road Multi Nagar Industrial AreaGerugambakka m Chennai -600122.
Mr. B. Karunakaran +91 9840664833 - karunakaran@aruna.in
20
PPE Type B
DRDE, Gwalior
director@drde.drdo.in
07512341550
M/s Pioneer Hygiene Products
268-270, GIDC Pandesara,Surat-394221, Gujrat
Ashish Vaidya
9925031972
21
PPE Type B
DRDE, Gwalior (Other DRDE PPE Technologies )
director@drde.drdo.in
07512341550
M/s Alok Industries Limited
Tower B, 2nd& 3rd Floor, Peninsula Business Park, Ganpatrao Kadam Marg, Lower Parel,Mumbai 400 013 Maharashtra India
Romi Agarwal 9820105817
22
PPE Type C
DRDE, Gwalior
director@drde.drdo.in
07512341550
M/s Idea Projects & Sales
CE-161, MayapuriIndustrial Area Phase II New Delhi-64
Rajat Raj Khatri
9810073939
23
PPE Type C
DRDE, Gwalior
director@drde.drdo.in
07512341550
Entremonde Polycoaters Limited,
Kilfire House, 1st Floor, C-17Dalia Industrial Area, Off Link Road, Andheri West, Mumbai - 400
K P Rajiv
9819355800
24
PPE (Two-Piece Coverall)
DIPAS, Delhi
director@dipas.drdo.in
01123831053
M/s Miltex Equipments
Plot No 146, Patpadganj, Industrial Area Delhi - 110092
Ankit Poddar
9911176655
011-45874507
contact@miltex.in
25
PPE (Two-Piece Coverall)
DIPAS, Delhi
director@dipas.drdo.in
01123831053
M/s Shiva Texyarn Limited
D-114, 11th Floor Himalaya House, 23, Kasturba Gandhi Marg, Connaught Place, New Delhi-110001
Brig Naveen Sodhi (Retd)
9818758447
naveen.sodhi@bannaridirect.com