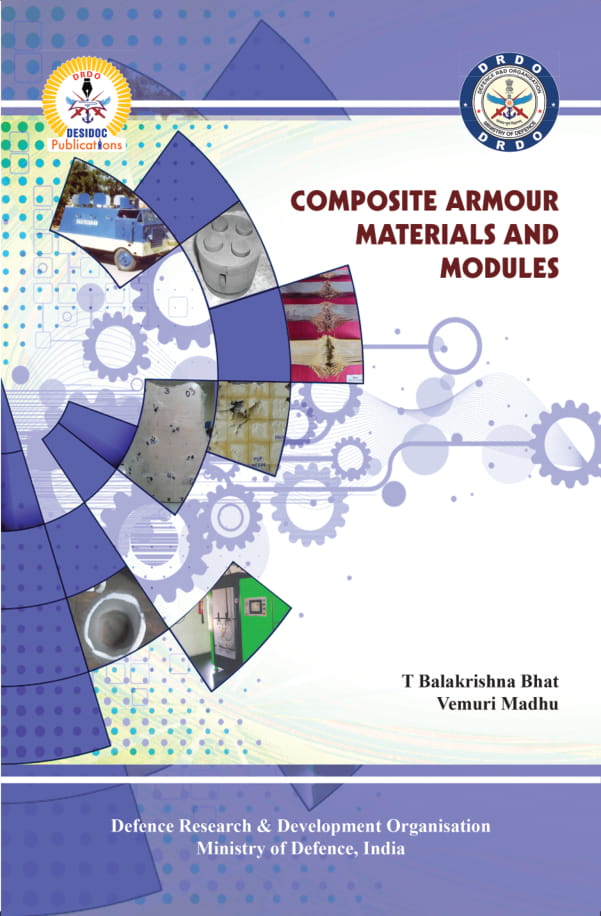 Composite Armour Materials and Modules
Name of Author : T Balakrishna Bhat and Vemuri Madhu
Pages: 158
ISBN : 978-81-86514-90-0
Price : INR 1000 US $20 UK £17
Language :

English

Publisher : DESIDOC
Year of Publishing : 2019
About the Book
Design of protective armour requires a deep understanding of the various types of threats against which protection is demanded, the mechanisms of energy absorption in various materials, the testing techniques for assessing the ballistic performance and the principles of design of appropriate modules to withstand the impacting object. The monograph describes an overview of the general principles of armour design, ballistic testing standards for composites, an introduction into ceramic and polymer materials, their processing and design concepts related to their use in developing practical armour systems. Chapters have been devoted specific to design of armours against small, medium, and large calibre threats. Material responses to high strain rate loading conditions and their utility in simulations have been discussed. The monograph would assist beginners, academic students, Armed Forces, R&D professionals and also scholars and engineers of mechanical, aerospace and civil engineering. General readers would also find this book to be accessible and interesting. It would also benefit the teaching fraternity which has immense potential to generate a deep scientific base in the field of armour.
About the Authors
Dr T Balakrishna Bhat
Dr T Balakrishna Bhat obtained his PhD from Indian Institute of Technology, Madras and worked at Defence Metallurgical Research Laboratory (DMRL), Hyderabad and Jet Propulsion Laboratory (JPL), Pasadena, USA. He has vast experience in armour research. At DMRL, he led the Armour Division, and designed and developed a wide range of materials and modules which have found many applications. He is a Fellow of the Indian National Academy of Engineering. Dr Bhat is a recipient of several awards for his professional contributions and has published several research papers in international journals and also patented some of his inventions. He has published few books such as 'Explosive Compaction of Powders and Composites', 'Disunity or Unity ?', 'Gita in 5 Minutes', 'Engineering Our Way to Wealth', 'Science for Babies', 'Engineering for Babies' and 'Morals and Philosophies by Babies'. He has a keen interest in analysing societal problems. He practices and teaches yoga.
Dr Vemuri Madhu
Dr Vemuri Madhu obtained his PhD from the Indian Institute of Technology, Delhi and also worked as Post Doctoral Research Fellow at University of California, Los Angeles, USA. He currently heads the Armour Technology Centre of DMRL. His areas of research interests include: Development of protective armour materials and composite armour systems for various combat platforms, high strain rate characterisation of materials, shock behaviour of materials, blast mitigation in materials & structures, and modelling & simulation of impact and blast. His research has led to a number of successful protective armour solutions for combat platforms.
Dr Madhu is a recipient of a number of DRDO awards which include Technology Group Award in 2015 and 2013, DRDO Performance Excellence Award in 2008, Laboratory Scientist of the Year Award in 2007, and National Technology Day Award in 2003. He has more than 70 research publications and a patent to his credit.