Miscellaneous
BODY TEMPERATURE PROBE (CONTACT TYPE)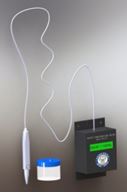 A cost-effective body temperature measurement probe is developed using miniature high resolution thermometer. The product is a spin-off from the Expendable Bathy Thermograph (XBT) developed by the laboratory
The Body Temperature Probe, consists of a very small thermistor on a pen-like attachment which can detect the body temperature by placing the tip on the mid-arm or forehead region. A hand-held processing unit displays the temperature, and based on the same, highlights whether the person is normal or feverish.
The kit has high accuracy with a very short response time
This cost-effective product is designed as two variants
The first variant is for industrial use, in which the probe and display-cum processing unit are separate units connected by a cable. Both the persons, the one whose temperature is measured and the one noting the measurement, are thus separated apart. 
This unit draws power from the general 230 V AC mains. 
The probe is inserted in a holder which contains sanitizing medium
In the second variant, the probe and the display-cum processing unit are integrated in a single casing. This variant draws power from a small battery and can be used for domestic purposes also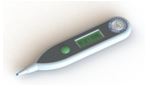 BODY TEMPERATURE PROBE (NON - CONTACT TYPE)
An indigenous version of the IR-based thermal scanner has been designed.
Small infrared sensors are used as the sensory elements. The requisite electronic circuitry has been designed for the data acquisition and processing. A small display screen is provided to show the value of temperature and also indicate whether the person is feverish or normal. The device is light in weight.
ANYWHERE ERECTABLE ISOLATION SHELTERS 
Various shelters, green power sources, chemical toilets, quick erectable medical complex have been develoepd under various projects related to field-defence and CBRN protection. These products with minor modifications / customisation, can be utilized for activities pertaining to containment of COVID 19. 
Industry partners are developed, who are capable and willing to take up productionisation of these products to meet the emergent requirements.
These products will be useful especially in the remote locations, where there is no medical/electrical facility available. The details of these products in standalone mode and as integrated system are given below.
SANITIZER WITH ATTENDANCE GEAR AND TEMPERATURE MONITORING (SWAGATAM)
A system has been developed by DIPAS for non-contact card based attendance and temperature monitoring along with sanitizer dispenser simultaneously covering every aspect of safety against Covid-19.
System has in-built card reader which is connected to the server via GSM & GPRS. An ultrasonic sensor sends out high frequency sound waves (about 40Khz) in the direction of detection, and receives the reflection from nearby objects and gives distance reading by processing the echo time.
Once, a person punches the card, his/ her card number, current date and time of arrival/exit along with temperature details (96° F to 107.6°F) will be saved on the server. Upto 40000 records can be stored in device itself.
This data can be accessed from the server with the help of API/Interface and thus can be used for Employee Attendance System accordingly.
The system has been tested and found easy to use, stable in performance and user friendly.
Temperature can be recorded at distance 2cms to 4cms. Whereas sanitizer can be used at distance of 2cms to 20cms.
STANDALONE SHELTER
Three Bed Quarantine Shelter
Quick erectable 3 bed shelter with power connection. Accessories (optional): Fan, Light, 3 Beds & Buckets
Can be used as extension of  city hospital to accommodate patients
Approximate Cost: Rs 1 Lakh/- 
Production Capability: 10 Per day

MEDICAL EXAMINATION SHELTER WITH GREEN POWER SOURCE
This metallic structure with water proof fabric shelter is of size 12'x12'x9' and can be utilised for medical examination and check up of suspected COVID19 patients.
This shelter can be erected within 1 hr with 4 persons. 
Upto 1.5 KW green energy power source for 24x7 operations is in-built. It is  a ready to use setup along with all essential electrical devices and gadgets. 
One bed, table chair and other essential accessories will be housed in this shelter.
This can be easily used in remote and field areas. This can also be used as remote monitoring and control centre.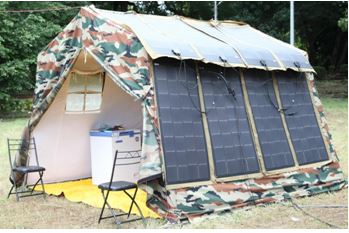 TWO BED QUARANTINE MODULE
Shelter of size 14'x14'x9' can be utilized as a quarantine shelter for two patients. 
This shelter will have essential electrical gadgets, 2 beds, tables and other minimum accessories. 
This total facility can be deployed within 2 hrs time with 6 person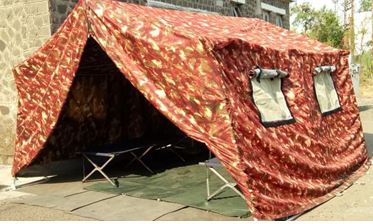 FOUR BEDS QUARANTINE MODULE
Shelter of size 20'x20'x9' can be utilised as    quarantine shelter for four patients. 
This shelter will have essential electrical gadgets, 4 beds, tables and other minimum accessories. 
This total facility can be deployed within 3 hrs time with 6 persons.
INFLATABLE SHELTER MODULE
The shelter can be utilized as quarantine centre ward for 10 patients. 
It can be erected in one hour with team of 10 personnel. 
This has inbuilt toilet module.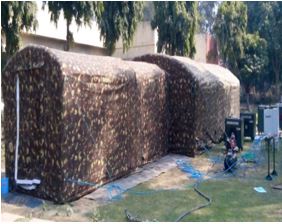 INTEGRATED MEDICAL COMPLEX
This will be a genset-powered, quick deployable, air conditioned medical facility suitable for remote locations 
It has the capacity to accommodate 16 patients
This has inbuilt toilet modules
In this way many combinations of these shelters can be worked out to scale the facilities
NEGATIVE PRESSURE INFLATABLE ISOLATION SHELTER FOR TEN OCCUPANTS
A Negative Pressure Shelter is developed for isolating and treating the patients without the risk of spreading the contamination to others. 
This system is suitable for isolating COVID 19 patients since the system is based on negative pressure and the materials used have passed Synthetic Blood penetration Test 
The system consists of Negative pressure based Air Handling Unit, and Inflatable Multiple Chambers 
The system has five numbers of Air Sterilizer Units and ducts are uniformly distributed to provide filtered air.
It covers a total area of approximately 1000sft and is manufactured out of two layer water-airproof fabric
The structure has separate rooms for decontamination & medical waste
The structure is equipped with modular rest rooms and is illuminated with sufficient light throughout.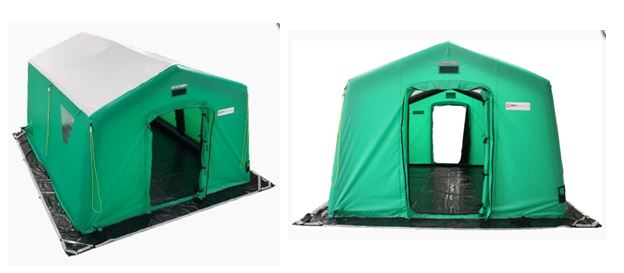 MULTIPURPOSE DOOR OPENER TOOL
In day to day life, the usage of objects such as door handles, cupboard handles, key pads of lifts, ATM kiosk key pads, computer keyboards can become means of spread of the COVID-19 virus. It is very difficult to ensure continuous sanitization of these common objects. 
A multipurpose door opener tool is designed using 3D printing process and thermoplastic material.  It is ergonomically designed, compact and very handy tool to provide a touch free operation of most of the commonly used objects such as door handles.
This tool is made up of two parts, a hook and a cover. The hook is designed considering the common sizes of door handles. The hook is also provided with a tip to operate the key pads at ATMs, Lifts and Keyboards. The cover is designed to accommodate thin layer of felt or tissue to sanitize the tool when closed. Hence, it will be safe to handle the tool for frequent use.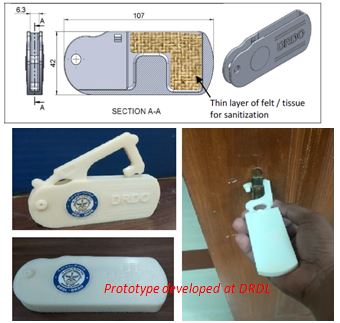 PAPER DISINFECTOR
To meet the imminent need to disinfect daily paper-based items entering an establishment, a product called Paper Disinfector is developed .
Paper / envelopes up to A4 size can be disinfected using the device
The device consists of two foldable halves - an upper lid and a lower lid 
To disinfect various paper-based items entering the establishment at the security office or the central registry, like entry passes, DAK, tender documents, currency notes etc., the operating person lifts the upper lid and asks the incoming visitor to place the item on the lower lid. He then closes the upper lid. The paper-based item is heated in between the two lids. 
Heating is done by means of Nichrome wire of selected resistivity which is placed inside a glass wool / mica sleeve, and sandwiched on a conductive cloth, and further wrapped in velvet for retention of heat. Two such sets of heating pads are used, one fixed on the bottom of the upper lid and the other on the top surface of the lower lid. 
The system draws electrical power of approximately 120 Watts, and has controls including ON/OFF switch & Indicators, fuse and timer control. There are different operation modes for the type of item like paper, currency, envelope etc. depending on the settings for temperature and exposure time.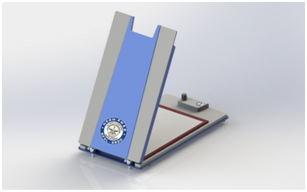 PERSONNEL SANITIZATION DISINFECTANT LIFE ENHANCER
HEMRL has developed a hydrogen peroxide based disinfectant with additives referred to as PerSan Enhancer (RTU) [RTU = Ready to use, no dilution required]. 
The major ingredient of the enhancer is distilled / RO water, free of suspended matter. Hydrogen peroxide is the active ingredient which is 6 – 7 times more effective in microbicidal activity than hypochlorite in liquid form. It is well reported that in vapour phase the microbicidal efficiency of hydrogen peroxide is further enhanced especially in aerosol form. 
The composition of disinfectant solution has been optimized in association with National Chemical Laboratory, Pune. The disinfectant solution contains 0.25% hydrogen peroxide with additives in distilled or RO water. The disinfectant fog deployed for 15 seconds is found to be effective against all the microbes.
INNOVATIVE TECHNOLOGY INTERVENTIONS
PPE Seam Sealant Development to overcome shortage of sealant tape and its Applicator Assembly
Contacts
Sr. No.
Product
Laboratory
DRDO Contact
Industry
Detailed Address
Industry Contact Person
1
BodyTemperature Probe (Contact Type)- Industrial/Domestic Type
NPOL,Kochi
tso@npol.drdo.in
director@npol.drdo.in
04842571111
M/sKeltron Controls, Aroor
A unit ofKSEDC LtdAroor,Alappuzha Kerala - 688534
Mr Abdul Haseeb VP
9895885323
haseeb@keltron.org
kelkca@keltron.org
2
Herbo Shwas
DIPAS,Delhi
director@dipas.drdo.in
01123831053
M/sStella Enterprises
Old Khandsa Road Sector 37, HSIIDC, Gurugram, HR
Ms Geetika Batra
9717157108
0124-5046868
Fax: 01245046899
vp@stellaindustries.com
3
IR-Based Body Temperature Probe (Non-contact type) Industrial/Domestic version
NPOL,Kochi
tso@npol.drdo.in
director@npol.drdo.in
04842571111
M/s Keltron Controls, Aroor
Aunit of KSEDC LtdAroor, Alappuzha Kerala - 688534
Mr Abdul Haseeb VP9895885323
haseeb@keltron.org
kelkca@keltron.org
4
Isolation Shelter
R&DE (E),Pune
director@rde.drdo.in
02027044002
M/s Raksha Polycoats Pvt. Ltd
S-17,T Block MIDC Bhosari, Pune -411026
Mr. Abhijit Sarkar
9823024322
5
Isolation Shelter
R&DE (E),Pune
director@rde.drdo.in
02027044002
M/s Accurate Savan Defence Pvt. Ltd
S No 78/1,Dangat Industrial Estate, Shivane, Pune - 411023
Mr. Sunil Shivapurkar 7796688201
6
Isolation Shelter - Negative Pressure
DEBEL, Banglore
dirdebel@debel.drdo.in
08025058325
M/s SureSafety (India) Pvt Limited
Plot-42, A/B,Yogi Nagar Township Besides Zenitd Tin, NH48, Channi Vadodra Gujrat-391740
0265-2760150
7
Multi-purpose Access tool
DRDL,Hyderabad
director@drdl.drdo.in
04024583000
M/s SanjayTechnoplast Pvt Ltd
F16 & F17, MIDC Ranjangaon, Pune-412220
Mr Sunil M Patdak
sunil.patdak@sanjaygroup.in
9158898070
8
Paper Disinfector
NPOL, Kochi
tso@npol.drdo.in
director@npol.drdo.in
04842571111
M/s Keltron Controls, Aroor
Aunit of KSEDC LtdAroor, Alappuzha Kerala - 688534
Mr Abdul Haseeb VP9895885323
haseeb@keltron.org
kelkca@keltron.org
9
Personnel Sanitization Disinfectant Life Enhancer
HEMRL,Pune
director@hemrl.drdo.in
02025912101
M/s Speciality Products Research Group, Pune
1st Floor,Plot No 29/3, F-II Block, MIDC, Pimpri, Pune - 411018
Mr Shivraj N Ghatge
9823036877
Mr Ranveer Ghatge
8983650507
10
Personnel Sanitization Disinfectant Life Enhancer
HEMRL, Pune
director@hemrl.drdo.in
02025912101
M/s Coherent Pharmaceuticals LLP, Pune
1stFloor, Narendra Industries, Opp. Praj Matrix, Lavasa Road, Urawade,Tal - Mulshi,Dist - Pune 412115
Mrs Prajakta Naik
9075089892
coherentpharma@gmail.com
11
Pneumatic Sealant Applicator Assembly
DRDL,Hyderabad
director@drdl.drdo.in
04024583000
M/s.Venkateshwara Aerospace Private Ltd
Pahadi Shareef Hyderabad – 501218
Mr CSN Reddy
9849012228
12
Pneumatic Sealant Applicator Assembly
DRDL,Hyderabad
director@drdl.drdo.in
04024583000
M/s.CNC India Tools & Services (P) Ltd
# A320, 7tdMain Road, 2nd Stage, Peenya Industrial Area Phase IV, Peenya, Bengaluru, Karnataka - 560058
Mr Venkatesh Reddy
9845079769
13
PPE Seam Sealant
NMRL, Ambernatd
director@nmrl.drdo.in
02512623037
M/s VCM, Mumbai
VCM Polyuretdanes Pvt Ltd W134/135 MIDCPhII Dombivali(E) Dist Tdane Pin 421204
K B Chhabria
9322407160
14
PPE Seam Sealant
NMRL, Ambernatd
director@nmrl.drdo.in
02512623037
M/s Setco Chemicals Pvt Ltd, Mumbai
S.No72. Plot No 64 to 73 Dewan and ShahIndl Estate Waliv Fhata Vasai East Tdane Dist Waliv Phata 201408
Yogesh Solanki
9820218266
15
Thermography Based Crowd Temperature Monitoring
RCI, Hyderabad
director@rcilab.in
04024306000
M/s Bharat Electronics Ltd
RT Road, Machilipatnam Krishna District, Andhra Pradesh
BV Nagaraju
DGM (Marketing)
16
Thermography Based Crowd Temperature Monitoring
RCI, Hyderabad
director@rcilab.in
04024306000
M/s Analinear Design Technologies Pvt Ltd
Plot No 4A, GMR Aerospace Park Shamshabad, RGIA, Hyderabad Telangana - 500108
Tarun Batra PSS Hari
sales@analinear.com