Hon'ble Vice President Visits NPOL, Kochi
The Hon'ble Vice President of India, Shri M. Venkaiah Naidu, visited the Naval Physical & Oceanographic Laboratory (NPOL), Kochi, on 2 nd January 2022, as Chief Guest in a function that was arranged in connection with the 'Azadi Ka Amrit Mahotsav' initiatives at NPOL. The Honourable Governor of Kerala – Shri Arif Mohammad Khan, the Minister for Industries, Govt. of Kerala - Shri P. Rajeeve, Member of Parliament of the Ernakulam Lok Sabha Constituency - Shri. Hibi Eden, Director General (Naval Systems and Materials), DRDO – Dr. Samir V. Kamat, Director General (ATVP) – Vice Admiral KO Thakare (Retd), Director VSSC - Shri Somanath, Chief Staff Officer (Training), Southern Naval Command – Rear Admiral TVM Presenna, Director (R&D), BEL – Shri. M V Raja Shekhar, along with Director NPOL – Shri S. Vijayan Pillai and many other dignitaries from the government and Industry also attended the function.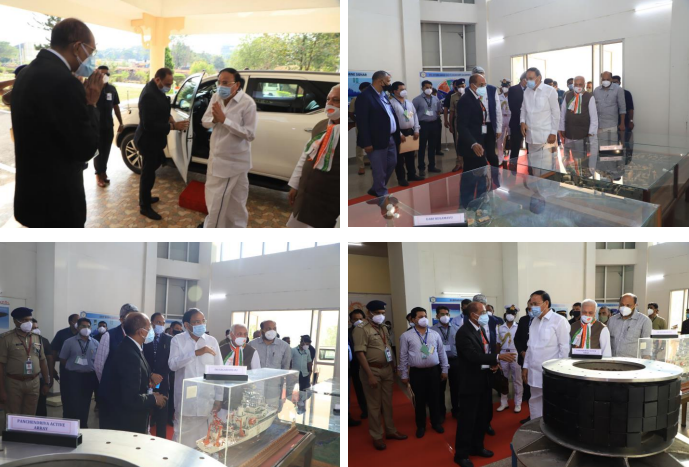 Arrival of the Hon'ble Vice-President of India
The Hon'ble Vice President laid the foundation stone of the Towed Array Integration Facility that is being setup at NPOL. This facility when completed, is slated to become a state-of-the-art integration facility for long length flexible sensor arrays and cables, and will have its own Machine shop, Array assembly shop, Pressure testing facility, Array filling facility and Winch testing facility

Laying of the Foundation Stone of Towed Array Integration Facility
The Program also witnessed the handing over of the DHWANI Acoustic Trainer System developed by NPOL to the Indian Navy. DHWANI is a complete automated Sonar trainer that is equipped with a small acoustic tank, multiple sensors, vessel signature generation tools, as well as Signal Processing and display hardware. The DHWANI system is expected to enable Indian Navy personnel – in a graded manner, to quickly advance their skills in interpreting and handling the sophisticated readings from Passive Sonar, Active Sonar and Underwater Communication systems. The DHWANI system was handed over by Director General (Naval Systems and Materials) – Dr. Samir V Kamat to Chief staff Officer (TSO), Southern Naval Command, Rear Admiral Presenna. The Licensing agreements for the technology transfer of USHUS series of submarine sonars were also handed over by DG (NS&M), to Director R&D, BEL. The USHUS series of sonars – the latest of which is USHUS-2, adorn the entire Kilo class submarine fleet of the Indian Navy, and comprise an entire suite of multiple sonars including passive sonar, active sonar, intercept sonar, obstacle avoidance sonar and underwater telephony systems.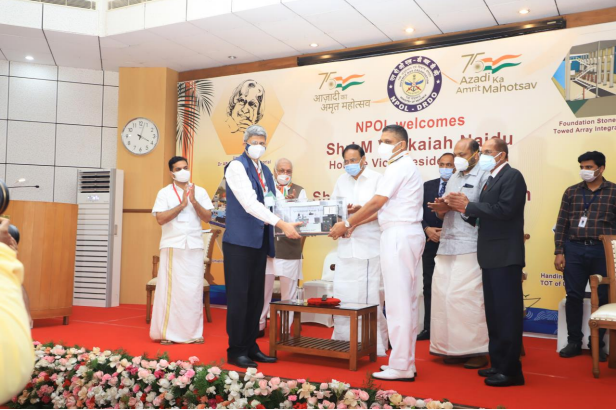 Handing over of DHWANI Acoustic Trainer System to Southern Naval Command by DG (NS&M)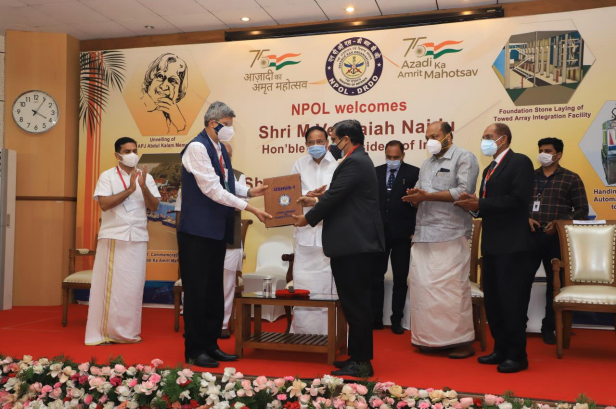 Handing over of Licencing Agreements for ToT of USHUS series of Submarine Sonars by DG (NS&M)
The Hon'ble vice President, in his address said that he was very happy to see that NPOL has established itself as a world leader in the niche area of underwater surveillance systems and technologies. He added that the contributions of a single lab of DRDO such as NPOL was immensely contributing towards national security and prosperity, and applauded the fact that all leading platforms of the Indian Navy were equipped with NPOL designed surveillance and defence equipment. He appreciated the practice of NPOL personnel working very closely with the Indian Navy – often choosing to sail with them, to understand the complexities of Naval personnel, while in the field. The Vice president noted that NPOL has been able to master a very complex and critical technology that gives a strategic edge to the Indian Navy in anti-submarine warfare. The Hon'ble Governor of Kerala, Shri. Arif Mohammad Khan said that attaining self- reliance in the defence sector is of utmost strategic importance for the country, especially in the present geo-political scenario, and congratulated DRDO for their calibre and commitment in helping the nation progress towards that noble goal. Director NPOL, Shri S Vijayan Pillai, thanked the dignitaries for their whole hearted support and complimented the Industry partners for ensuring efficient and reliable production of sonar equipment and shared his optimism for the years to come.
The Hon'ble Vice President formally inaugurated the Dr. APJ Abdul Kalam Memorial erected at NPOL and unveiled the plaque in the ceremony. The memorial, made in tribute of our former President, comprises his statue, along with descriptions that chart his inspirational life. Models of missiles and rockets developed under the IGMDP program of DRDO which was initially guided and championed by Dr. Kalam also adorn the memorial area. An Azadi Ka Amrit Mahotsav installation – which portrays some of the exemplary Sonar achievements of NPOL was also inaugurated by the Hon'ble Vice President. The dignitaries also visited a special exhibition area that showcased various NPOL products.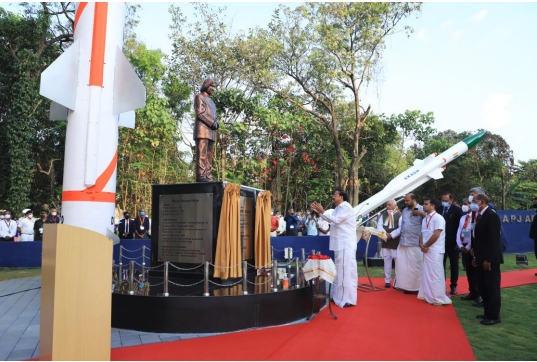 Unveiling of the plaque, inauguration of the Dr APJ Abdul Kalam Memorial at NPOL facade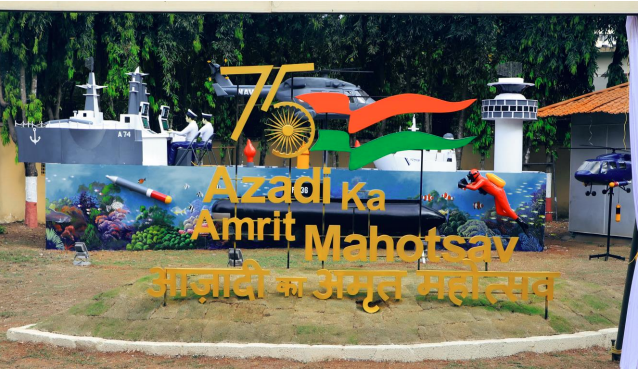 Azadi Ka Amrit Mahotsav Installation at NPOL facade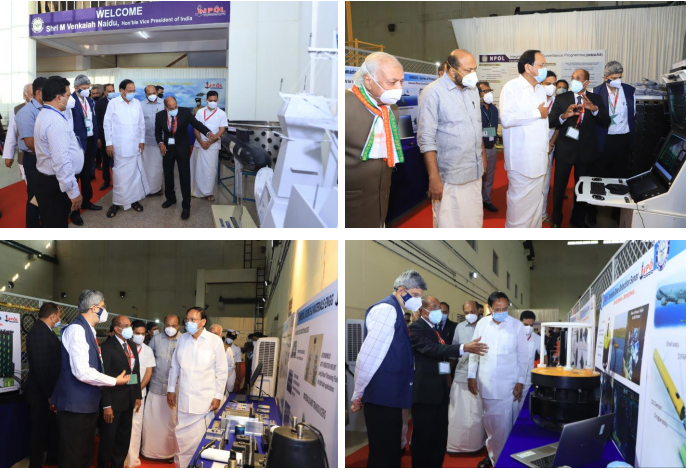 Exhibition of NPOL Products