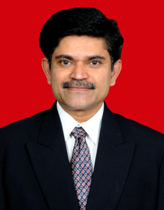 Shri M Z Siddique
Distinguished Scientist & Director General - Aeronautical Systems (AS)
Shri M Z Siddique has been given additional charge of DG (AS)on 28 April 2023. Shri M Z Siddique has been appointed as DG (NS&M) from 14 November 2022. Shri M Z Siddique, a Mechanical Engineer from Annamalai University, joined GTRE, Bengaluru as Scientist 'B' in 1988 after completion of one year fellowship programme on "Gas Turbine Technology" from Institute of Armament Technology (IAT), Pune in 1988. Subsequently he has undergone one year 'on the job training' program at M/s General Electric, USA during 1992-1993 on aero gas turbine engines.

Shri MZ Siddique was associated with the design and testing of axial flow compressor systems. In the year December 2007, he was appointed as Project Director (Kaveri). The successful completion of altitude testing at Central Institute of Aviation Motors (CIAM), Russia and Flying Test Bed (FTB) trials of Kaveri engine in IL-76 aircraft at Gromov Flight Research Institute (GFRI), Russia was conducted under his leadership. For this achievement, he was awarded "DRDO Agni award for excellence in self reliance – Team leader" in the year 2010. In July 2018, he was promoted as Distinguished Scientist.

Shri MZ Siddique has services as Director, GTRE from 11th August 2015 to 14 November 2022.