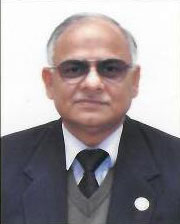 Shri Hari Babu Srivastava
Distinguished Scientist & Director General - System Analysis and Modeling (SAM)
Shri Hari Babu Srivastava, DS & SC-'H' has given additional charge Director General (System Analysis and Modeling (SAM)) on 30 June 2021.
Prior to taking over as DG (TM), Shri Hari Babu Srivastava was Director of LASTEC, Metcalfe House, New Delhi w.e.f. 20th June 2014, where he was spearheading various technology and product development initiatives in the area of high power laser sources, laser spectroscopy and laser countermeasures. He was Director of Electronics and Computer Science at DRDO HQrs during 2013-2014 and supported various ECS Cluster labs in techno-management of their projects and activities.
He started his career in DRDO at IRDE, Dehradun as Scientist 'B' in Aug 1984. He was appointed Head of Servo Systems Division of IRDE on 01 April 2000, upgraded to the position of Chief Designer of Fire Control System Design Centre on 01 Jan 2008 and rose to the position of Group Director of the Fire Control Systems group on 01 July 2012.
During initial years of his career at IRDE, he worked extensively on stabilisation of line of sight of various electro-optical payloads, including direct viewing optics, CCD cameras, laser range finders, laser seekers and thermal imaging cameras. Later on, as Project Director/Chief Designer/Group Director, he was responsible for development, review and finalisation of the design and performance of the above payloads, ballistic computations, laser designator cum SWIR imaging systems, electro-optical fire control systems and electro-optical surveillance systems. He shouldered major responsibilities of developing hardware, software and extensively worked on integrating, interfacing and field evaluation of these systems in various platforms in Indian deserts and naval trial areas.
An alumnus of IIT Roorkee and IIT Kanpur, he has authored/co-authored many technical papers in various national and international refereed journals and seminar/conference proceedings, apart from numerous internal DRDO reports. He has co-edited a monograph on 'Night Vision and Electro Optics Technology Review'.
He is a life member of Optical Society of India (OSI) and Instrument Society of India (ISOI). He is also a past Joint Secretary of the national executive of ISOI. He is a recipient of DRDO Cash prize, DRDO Group Technology Award and Laboratory Group Technology Award.