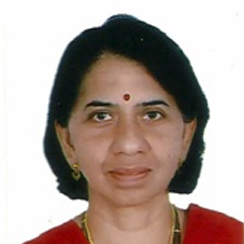 Dr. Chitra Rajagopal
Distinguished Scientist & Director General (RM & Impl.), DRDO, Ministry of Defence, New Delhi
Dr(Ms) Chitra Rajagopal, Distinguished Scientist is appointed Director General (RM & Impl.) w.e.f 31 OCT 2019.
As Director General (R&M), she oversees the functioning of seven corporate directorates at DRDO HQr viz;
Directorate of Planning & Coordination
Directorate of Finance and Materials Management
Directorate of Civil Works & Estates
Directorateof Parliament Affairs
Directorateof Management Services
Directorateof Vigilance and Security
Directorate of Rajbhasha and O&M
She is the First Appellate Authority for DRDO Her research interests are : Environment, Explosives, Process, Chemical and Fire Safety; Eco friendly and Clean Energy Technologies, Sustainable Development; Qualitative Risk Assessment, Environment Impact Assessment, Disaster Management, Heat Transfer; Systems Analysis of Defence Systems;.
Some of her technical contributions are:
Innovative design, development and evaluation of above ground and underground explosive store houses; packaging and coating technologies.
Development of Green Technologies : Eco-friendly Treatment, Remediation & Disposal Technologies for Explosives and Hazardous Wastes; Eco-friendly Safe packaging for defense applications, Bio-fuel reformer for generation of Hydrogen.
Integrated Software Package for Risk and Hazard analysis (RHA) and Disaster Management; Application of Risk Assessment Techniques to Defence Establishments for handling of Explosives and other Hazardous Materials;
Design and Development of Heat Transfer Equipment and Combustors for MoD Applications;
Development of Halon alternatives for Fire Fighting applications - water mist, aerosols, novel organic molecules.
She is Member Secretary of Executive Council and Co-Chairperson of the working group on Exploratory research for S&T Cooperation between India and Russia; Member Secretary of DRDO S&T Management Council (DSTMC)
She is currently INAE-AICTE Distinguished Visiting Professor.
Prior to this, she held the appointment of Director General Systems Analysis and Modelling (SAM) from Dec 2016 till Oct 2019.
As Director General SAM cluster, she oversaw the functioning of two laboratories Centre for Fire Explosive and Environment Safety and Institute for System Studies and Analysis and the three directorates at the DRDO HQrs, Directorate of Public Interface, Directorate of Quality, Reliability & Safety and Directorate of Systems and Technology Analysis. The broad areas of research were Environment, Explosive and fire safety and Integrated Safety Management, Systems Analysis, Development of war games & decision aid tools, Quality, Reliability & Software assets management.
Her contributions include formulation /implementation of Explosive, Fire and Environmental safety rules and regulations in MoD establishments and formulation of Safety, Health & Environment Policy, Ammunition Storage Policy, Quantitative Risk Assessment (QRA) methodology to complement STEC regulations, Evolution of Risk Acceptance Criteria (RAC) for MOD, Development of Human Factors and Human Reliability discipline in Defence Systems and Disaster Management Plans for DRDO, Implementation of DRDO Standard for Software Assets Management, Defence Systems Safety Board for Certifying DRDO Developed systems for Land and Naval Applications, Guidelines for Software IPR for DRDO, and has given impetus in sensitising MoD users through training programmes, lectures, dissemination through electronic and print media.
She has been Chairperson of SAM Advisory Council, Vice-Chairperson of Storage and Transport of Explosive Committee (STEC).
She is a member of the various National level Boards / Committees besides DRDO including : Expert Appraisal Committee for Environmental clearance (Defence & Related Proposals), Ministry of Environment, Forests & Climate Change; Planning Board, Bharatiar University, Coimbatore; Board of Studies of Guru Gobind Singh Indraprastha University, New Delhi;
She is a recipient of several National and DRDO awards such as DRDO Scientist of the Year Award in the year 2010; Lifetime Achievement Award by Society for Reliability and Safety (SRESA) in 2019; Eminent Engineers Award by The Institution of Engineers (India) in 2019, among others.
She has to her credit 55 International and 49 National publications with 4285 citations. She has authored three book chapters and published 125 technical reports. She has delivered invited talks / keynote addresses in various international/ national fora and presented papers in 59 International and 48 National conferences.; is on the Editorial board of International and National journals and is a PhD examiner with IITs, Central Universities.
She holds twelve patents to her credit (04granted, 08 filed). 02 technologies have been transferred to Industry; 06 products, 05 Softwares / Simulation models&02 AHSP/ Regulations handed over to User / stakeholders.
She has been associated with the a number of international and national professional organisations including Leadership for Environment &Development Program (LEAD), UK; Carbon Society Delhi, Indian Institute of Chemical Engineers, High Energy Materials Society of India, Administrative Staff College of India, Academy of Scientists, Institution of Engineers. She has been a contributor to national obligations under International conventions; Montreal Protocol, OPCW, etc.